Regina Daniels' Constant attacks by Step Son, Emzy – Utters Bitterness
Judging from the looks of things, Regina Daniels alleged stepson, Emzy may just be the biggest threat and thorn she will ever have as she remains married to billionaire politician Ned Nwoko. How? you may ask, the reasons are quite glaring.
We've heard and seen cases where young women who get married to much older men are faced with the challenge of dealing with their stepchildren mostly their stepsons. It is general knowledge that mothers tend to have a firm grip on the children especially their sons who in most cases turn out to be overly protective.
Did You Miss : Peter Okoye calls out promoter using his photo to sell his twin brother's show
We've also witnessed the unusual where these young sons get attracted to their stepmothers. Unfortunately, when things go sour after making their feelings known, a well of overflowing bitterness is dug deep in their hearts which eventually spells continuous torment for the new wife. In some other cases, the undying hatred is just an offshoot of their mother's influence over them. While they exhibit all sorts of characters towards their stepmothers, genuine or not with self-denial as another strong factor, it is important to note that not all stepchildren are inhospitable, but in Regina Daniels' case we seem to tend towards the former.
Ever since her marriage to Ned Nwoko, Regina Daniels has been in the news for numerous reasons. From criticisms to advice and support, the young actress and latest wife has been burdened with all that has been thrown at her from the public and even her immediate family. When it looked like things were finally taking a trip down to 'relaxation zone' Ned Nwoko's alleged son, Emzy decided to reignite what was left of the drama.
Just recently, according to Kemi Filani blog, the young lad warned Regina Daniels to stop taking his 59-year-old father to clubs as well as smoking in his presence. He told her such outings take a toll on him. He also revealed that Ned Nwoko is not a fan of such a lifestyle and may not want to complain all in a bid to make her feel loved. He added;
You Are Even Smoking In His Presence, Something You Can't Do To Your Own Father, Aunty Fear God If You No Go Fear Dad.. I Don't Know Your Aim Though But Just Know It Won't Work. I Wish He Was Still Young For All This. Wrong Choice."
Though we understand that it is typical for children to care for their parents but do you believe his concerns are genuine? Previously, Emzy has publicly harrassed Regina Daniels over and over for diverse reasons and we are yet to place our finger on why he is adamant on attacking her. Just before this incident, Emzy had reminded Regina Daniels or the consequences of the oath she took all because she was spotted hanging out with Naira Marley and his friends in her husband's private jet. See his post below;
He didn't stop here. Prior to this as well, the young man had also spoken about being the rightful heir of his father's property and it caused ripples of reactions across social media. See the post below:
Though I'm not one to judge but have you ever pondered on why Emzy constantly lambastes his stepmom on social media? For all we know, Ned Nwoko is married to more than one wife and we have never heard or seen where Emzy was locked in a heated battle with any of them, so why is Regina Daniels' case different?
Is his mother jealous and using her son to get back at her husband or is he just acting out his feelings, the same that could be relatable with every other child in the same situation? Sadly, no one can decipher what goes on in a man's heart but we may just be looking at a case of self-denial here.
Emzy may just be battling with desire and attraction he feels for Regina Daniels like some stepsons do which is either made open and then resort to attacks if they are turned down or just trying to mask their feelings. Yes, it happens! and Emzy may not be a stranger in this regard. Does this mean, Regina should be subjected to a life of torment on social media by someone who cannot control his feelings that's if they are true? Certainly not.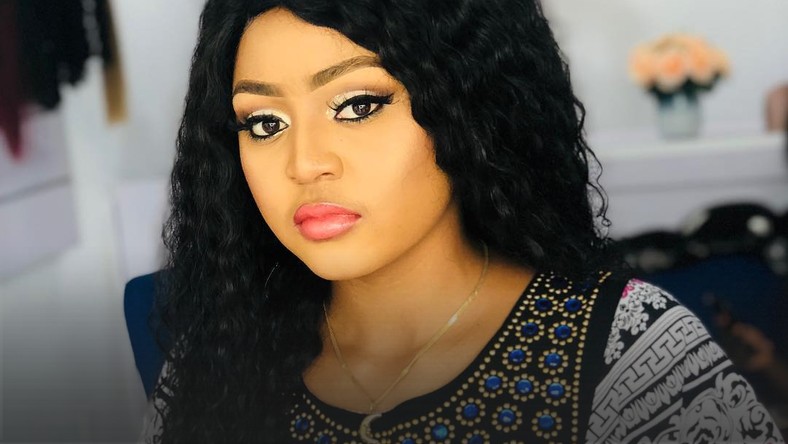 Irrespective of what he thinks, Regina Daniels is a legally married woman and most importantly, she is hooked to his alleged father, Ned Nwoko and doesn't need her stepson to be on her trail all the time. I believe, Ned Nwoko is in every way capable of dealing with his wives so let every warning and concern come from him instead. No offence, but Emzy is in no way entitled to an opinion on who Ned Nwoko should or shouldn't marry. If he feels he needs to counsel someone, he should get a wife of his own and stop with the charade. There are many ways to trend on social media, this is certainly not one of them.